About Rail Route
Enter the world of rail networks and become the dispatcher of your dreams! Rail Route is a management and tycoon game based on railroad dispatching, offering relaxed, easy to understand (but hard to master) gameplay.
Create the route of your dreams in a world where you set the pace, and embark on an ever-expanding railway extravaganza.

Build Your Network
Design Your Network
First things first, you'll need to begin constructing your network. No great, grand designs in mind yet? Not to worry – to start, you just need to lay down tracks between two stations. And, once you've done that, you just won't be able to stop expanding…
Dispatch Your Trains
Start Dispatching Trains
Once you've started designing your network, it's time to begin dispatching trains! Once you've checked your train's destination and ensured that you've set your switches correctly, you can signal it to set off. Just make sure that it doesn't arrive late!
Unlock Upgrades
Unlock New Technology
Looking to automate your experience? As you dispatch your trains and take on new contracts, you'll be earning research points. You can use these to unlock new upgrades and parts for your network, including automatic signals (meaning that the trains will dispatch themselves!). Eventually, you might even end up with something like this…
Looking good? Oh, and don't worry – we have dozens of upgrades to choose from!
GameModes
Endless Mode
Endless Mode is Rail Route's primary game mode. Expand your rail technology, unlock new trains (and types!), discover new stations (and lucrative contracts), and see how big your network can grow!
Schedule your trains and make sure that they stick to their timetables

Expand your rail network and build new, innovative components and buildings

Earn rewards – money & experience points

Unlock upgrades – improve your technology and dispatch interface

Automate – build sensors, automatic routers and mechanize your network
Timetable Mode
Looking for a challenge, or something a bit more linear? Scored maps are puzzle levels with a pre-set train schedule and track layout. You have one goal, and one goal only: get your trains to their destinations on time!
Dynamic scoring system

Hand-made timetables – including both famous, and innovatively imagined, junctions and layouts

Ensure that your trains arrive, and are dispatched, on time
Go ahead and compete for the high score!
Rush Hour Mode
Looking for something a bit more intense? Rush Hour is our ultra-streamlined wave-based game mode, designed for exactly that.
Dispatch your way through wave-after-wave of trains, each one increasing in difficulty.

Utilize a limited number of items as best you can – and make sure you don't take too long!
Oh, and don't mind old Milos… He'll just be there taunting you the whole way through!
Workshop Maps
Create or Play Workshop Maps!
Got a favorite station or town that you'd love to see in Rail Route? Our workshop has 1000+ maps, so chances are, you'll find it! If not (or if you're looking to subject the community to your own wild machinations), our easy-to-use level editor means that you can make it yourself!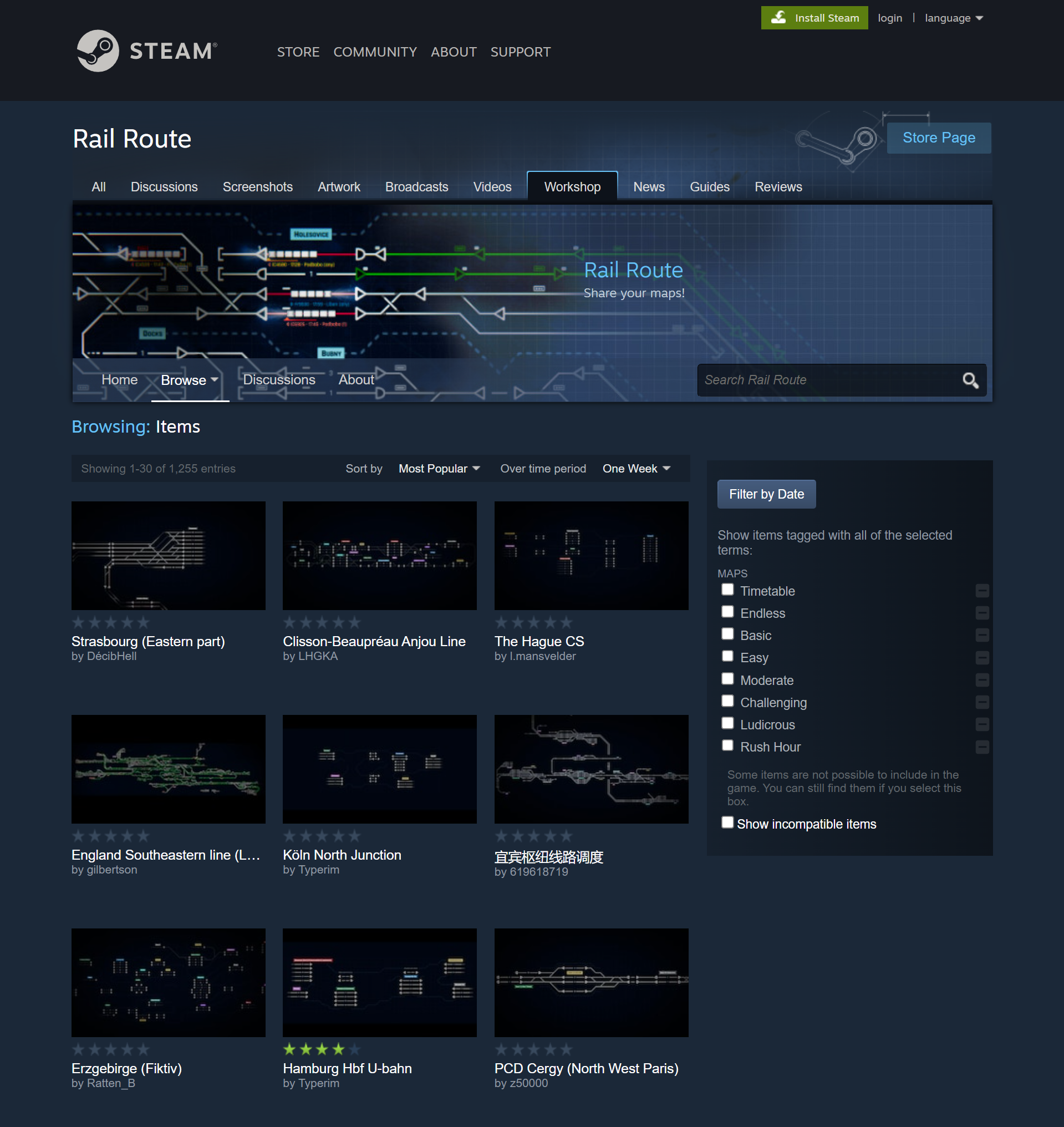 Available for PC  – Win / Linux / Mac
You'll receive a Steam key for Rail Route directly from the developers of the game.
❤️ Thanks for your great support!
Available for PC  – Win / Linux / Mac
You'll receive a Steam key for Rail Route directly from the developers of the game.
❤️ Thanks for your great support!
More to come…
Is that all? Of course not! There are a ton of other ideas we've been throwing around for updates later in Rail Route's life. Most of our ideas come from the community, so feel free to pop into our Discord server if you've got any suggestions!