Available for PC  – Win / Linux / Mac
You'll receive a Steam key for Rail Route directly from the developers of the game.
❤️ Thanks for your great support!
RailLog #6 – Controls
Sneakpeaks of upcoming changes to the Control Scheme.
Hey, here we are with our next Rail Log, and we'll have a look at our keybinds this time. While a dev team is iterating over a new UI/UX, this is also vital to have thought through beforehand.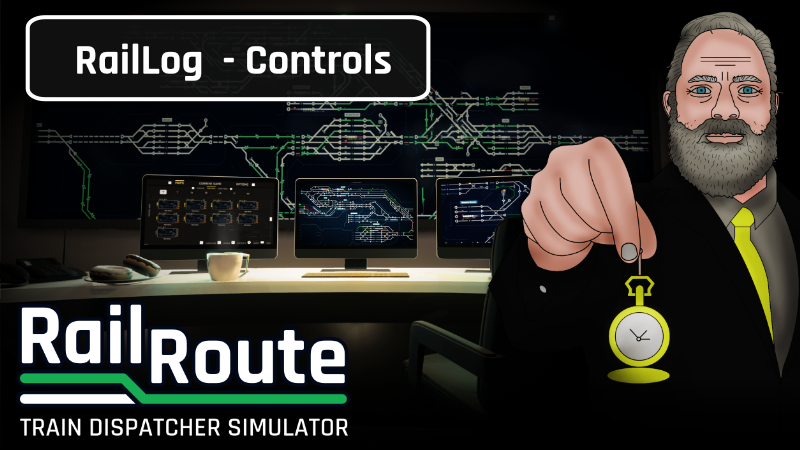 Without knowing we'll bring a new UI, we likely target keybinds earlier in our Early Access stage. But waiting had its benefits as we see what's missing, what has flaws, and what kind of features we want to be in the game in much deeper detail than at the beginning of Early Access.
So I apologize that we still don't have a keybinding to open a construction mode, for example. A bright future is in front of us; trust me!
Control Schemes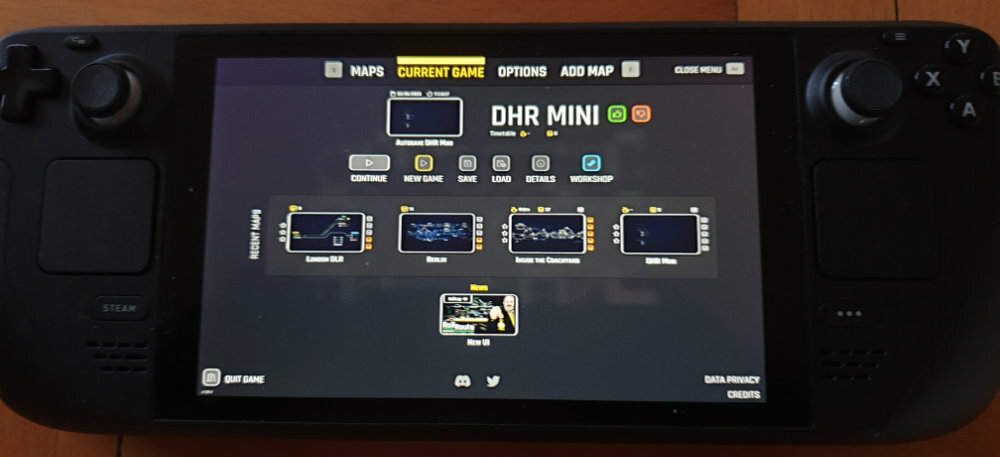 As you may know, we already support a controller. The current state could be better, but as we see it as an excellent fit for the game, we are improving it along the way. It's not just about the proper control schemes but about UX flows and how a virtual cursor behaves.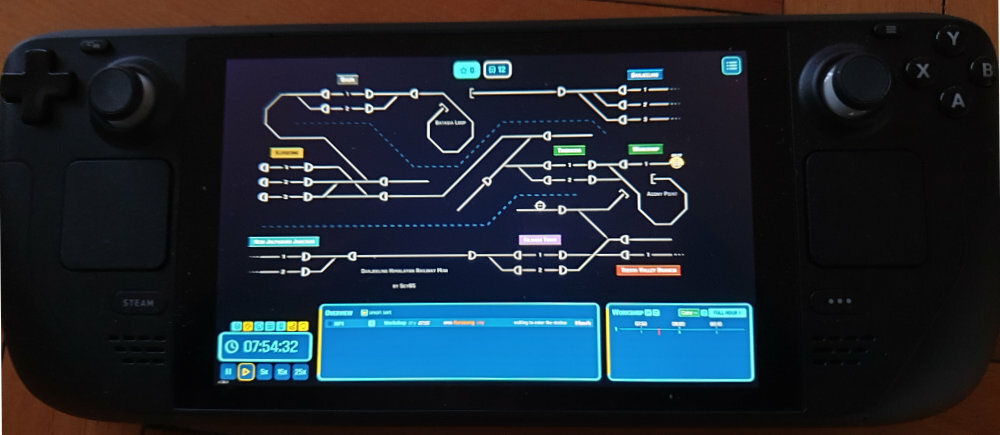 For example, we've prototyped the "stickiness" of the nodes (signals, switches, …) that attract the cursor sucking it closer to them, and I must say, it's improving the user experience to the next level. It just requires more work and must be accompanied by the new UI. We'll put this into the game once this new UI is nice & ready.
Keyboard & Mouse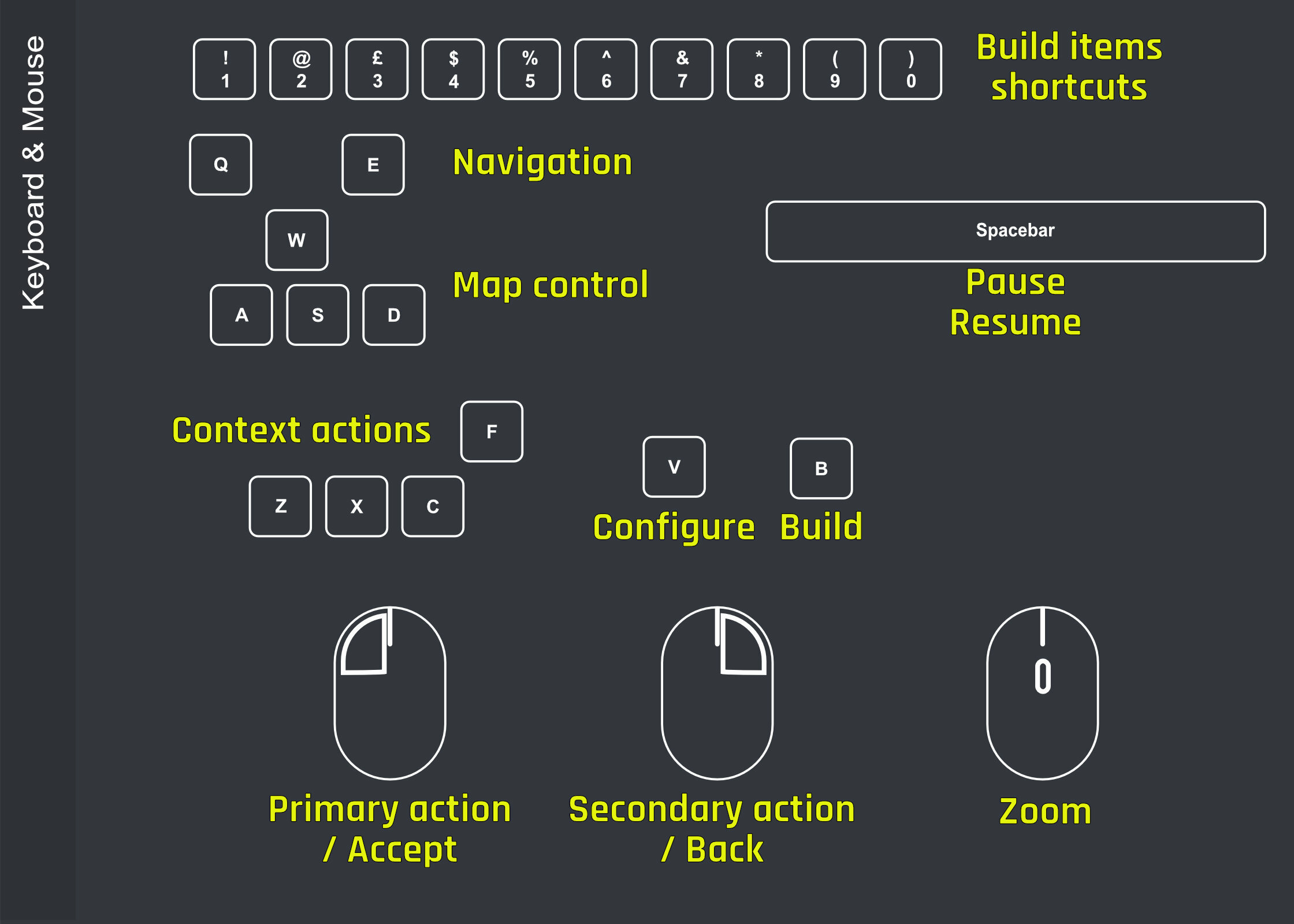 The keyboard and mouse will still be the primary way to play Rail Route on PC. As you can see, there are few structure changes, more just additions. We must drop all modifiers like CTRL or SHIFT, which is excellent, as I personally hate we've put them into the game. They were hard to communicate and explain. They also share too many different use cases, their biggest problem. So no more holding two keys at once. But we don't need them at all.
A new 'Configure' action opens a node's (sensors, signal, station, …) configuration UI previously assigned to CTRL + click. I've mentioned that part of UI (node's detail panel) of the routing sensor in my last article, and I'll bring more exciting details soon in one of the following Rail Logs. We've finally found a way to do it properly, and it'll be great.
One may ask what these context actions are. I'll return to them shortly; let's check the controller scheme first.
The Controller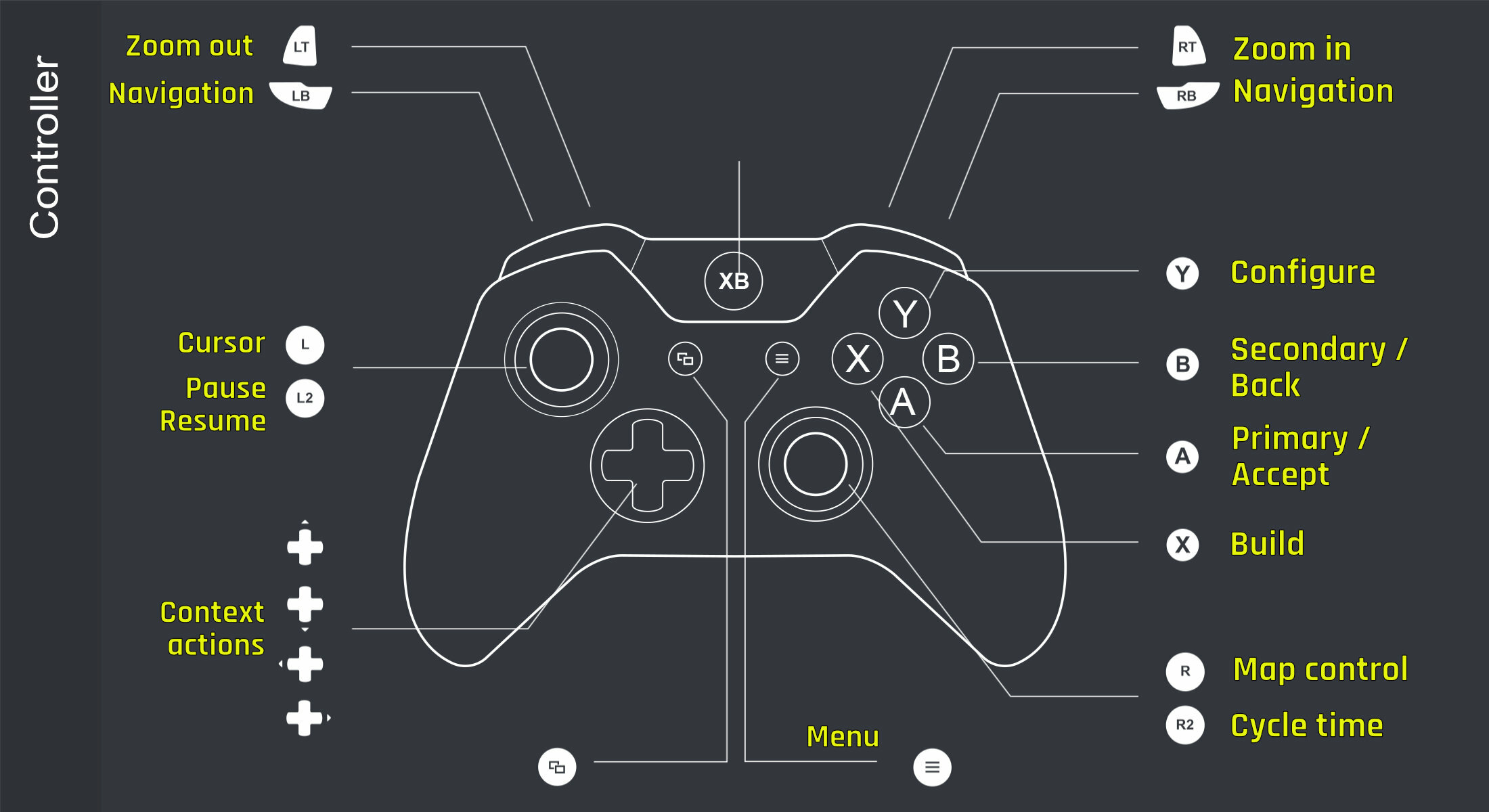 While designing our UI workflow, having the controller in mind helps us define the game controls much better. Not just for a controller but the keyboard as well. The outcome is much cleaner. The mouse buttons are replaced with A and B buttons, which is kind of a standard. We could use triggers for these, but putting a zooming control on them suits the game much better.
While the left stick controls the virtual mouse (with some additional help in the form of magnetism of the nodes I've already mentioned), the right maintains the map. And you can press them for time control.
The shoulder buttons are used in any navigation context, which we'll often use in upcoming UI. And on a d-pad lay the context actions. I already mentioned these, so let's dive into them!
Context Actions
Depending on what you are doing in the game at any moment, there can be actions you can make. And they depend on the current context. For example, check out the current state of the building's UX improvements as part of the dev team working on it.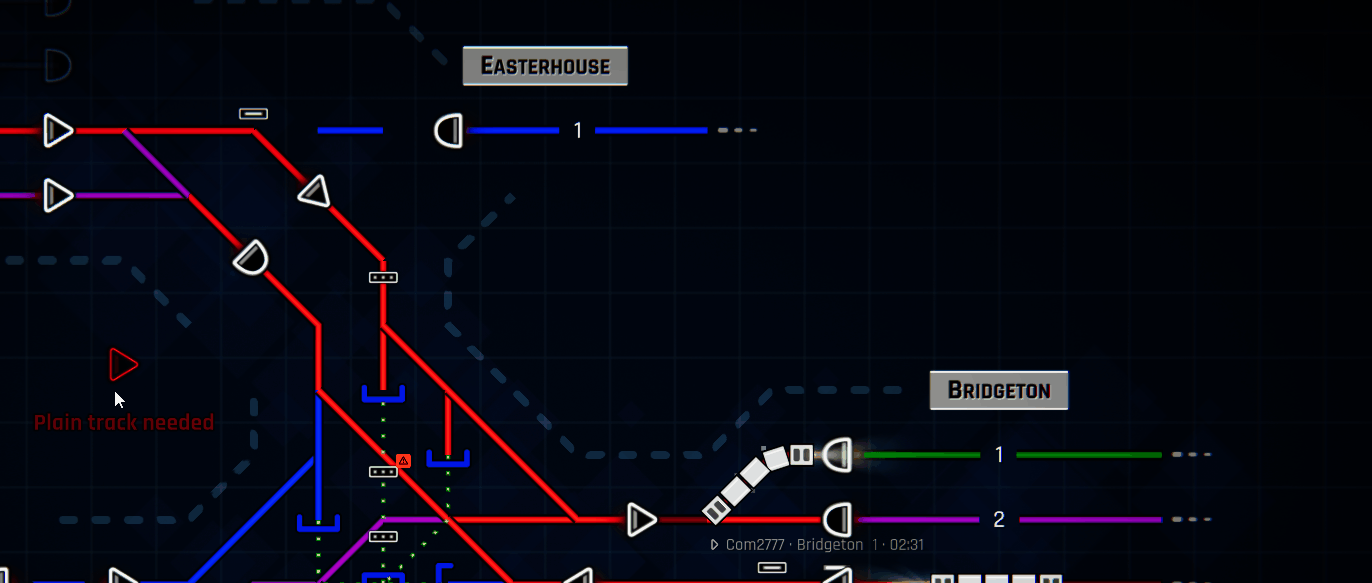 Additional actions can be available throughout the construction mode whenever you move your cursor over an active element, and you cannot build there. And that's when these Context Actions come in handy. Over a signal, you can rotate, upgrade or delete it.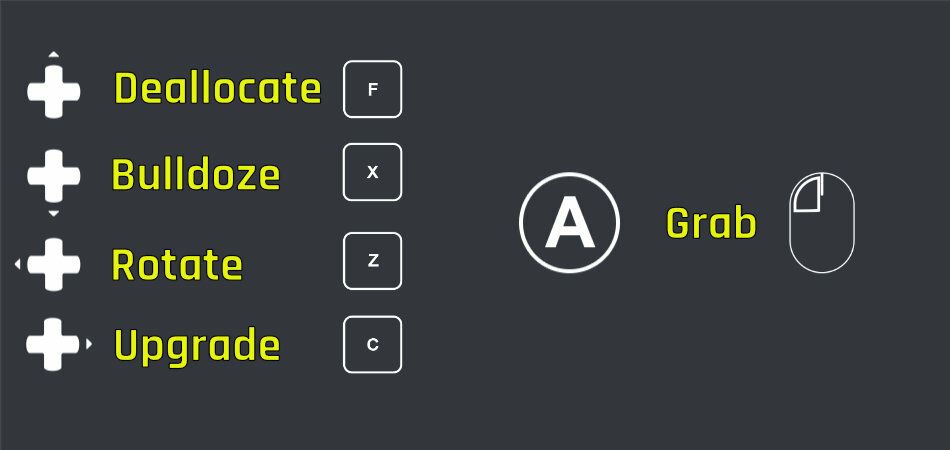 Note the grabbing action. It is available for all elements, and moving stuff around when slight adjustments to your rail network are needed is brand new and easy. You move desired sensors leaving their configuration intact. And sensors no longer split the track, so whenever the destination track is being targeted in any of the sensors, their configuration remains valid.
Building Menu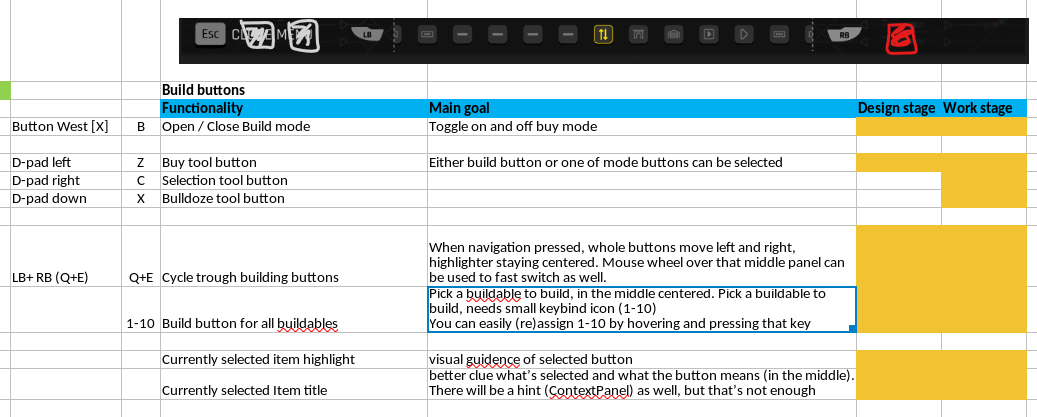 Let's have a look at the new building menu. We want the panel to be as simplified as possible. You can select the build item by using navigational keys (Q, E for a keyboard, LH and RH for a controller) and with context actions, additional tools are available (buy, bulldoze, and selection). On top of that, when hovering with a mouse, you can assign a 1-10 key to a single item for an instant shortcut. That's something not available on the controller side.
Unfortunately, as of now, we won't plan any copy & paste or move tool to be included in a 1.0 release, but that's something we would like to improve later as we'll arrange to bring more updates after the game is fully released, 1.0 will mark other beginnings, not any end :).
Bulldozing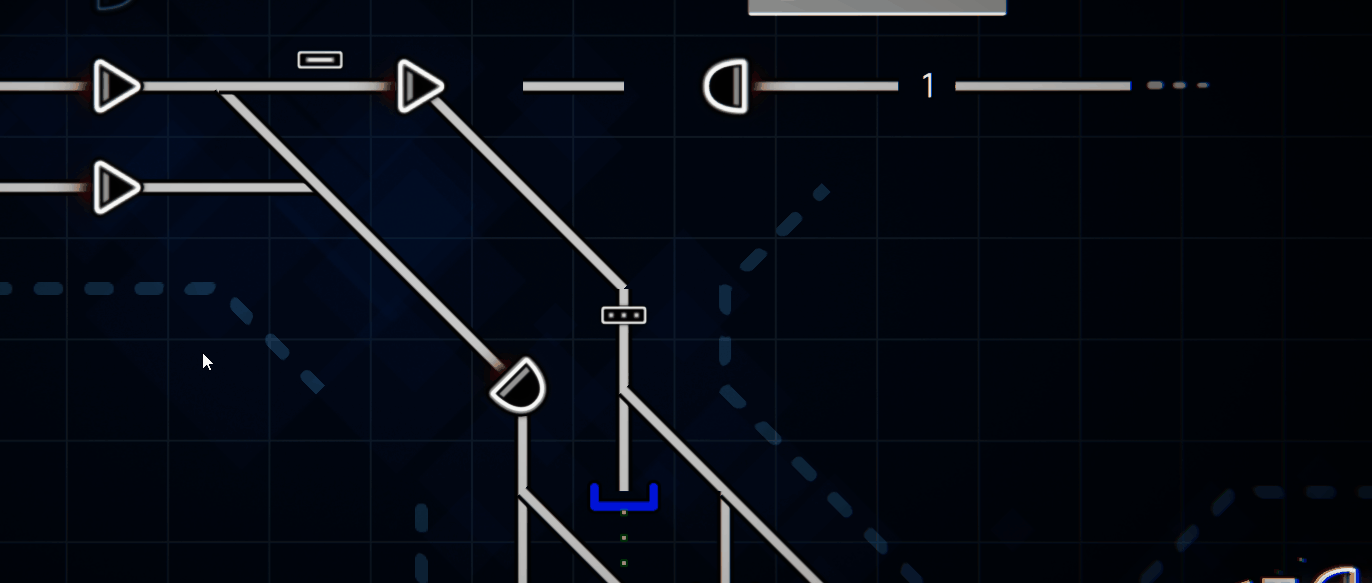 For a bulldoze tool, the default is removing whole tracks with a single click, while partial removal is a secondary action. We are also considering an area removal tool that would clear everything within a defined rectangle. But we'll see how much time we'll have before all significant changes for 1.0 are ready.
That would be all for this week. Maybe you'll ask when all this will be available? In a few months, hopefully.
Happy Dispatching!
– Angel
Available for PC  – Win / Linux / Mac
You'll receive a Steam key for Rail Route directly from the developers of the game.
❤️ Thanks for your great support!
Share This Story, Choose Your Platform!