Available for PC  – Win / Linux / Mac
You'll receive a Steam key for Rail Route directly from the developers of the game.
❤️ Thanks for your great support!
Update 12 is Live: Discover What's New in Rail Route!
All Aboard for a New Journey: Update 12 Now Live!
Greetings, Rail Route community! 🚂
We're thrilled to announce that Update 12 has officially left the station and is now live! After an exciting journey through the development tracks, we're ready to unveil the new features and improvements that we've been working on. Here's a quick rundown of the key highlights:
Notable New Features:
Revamped UI: The in-game user interface has been upgraded with new elements like info panels, context panels, and bottom bars, enhancing your gameplay experience.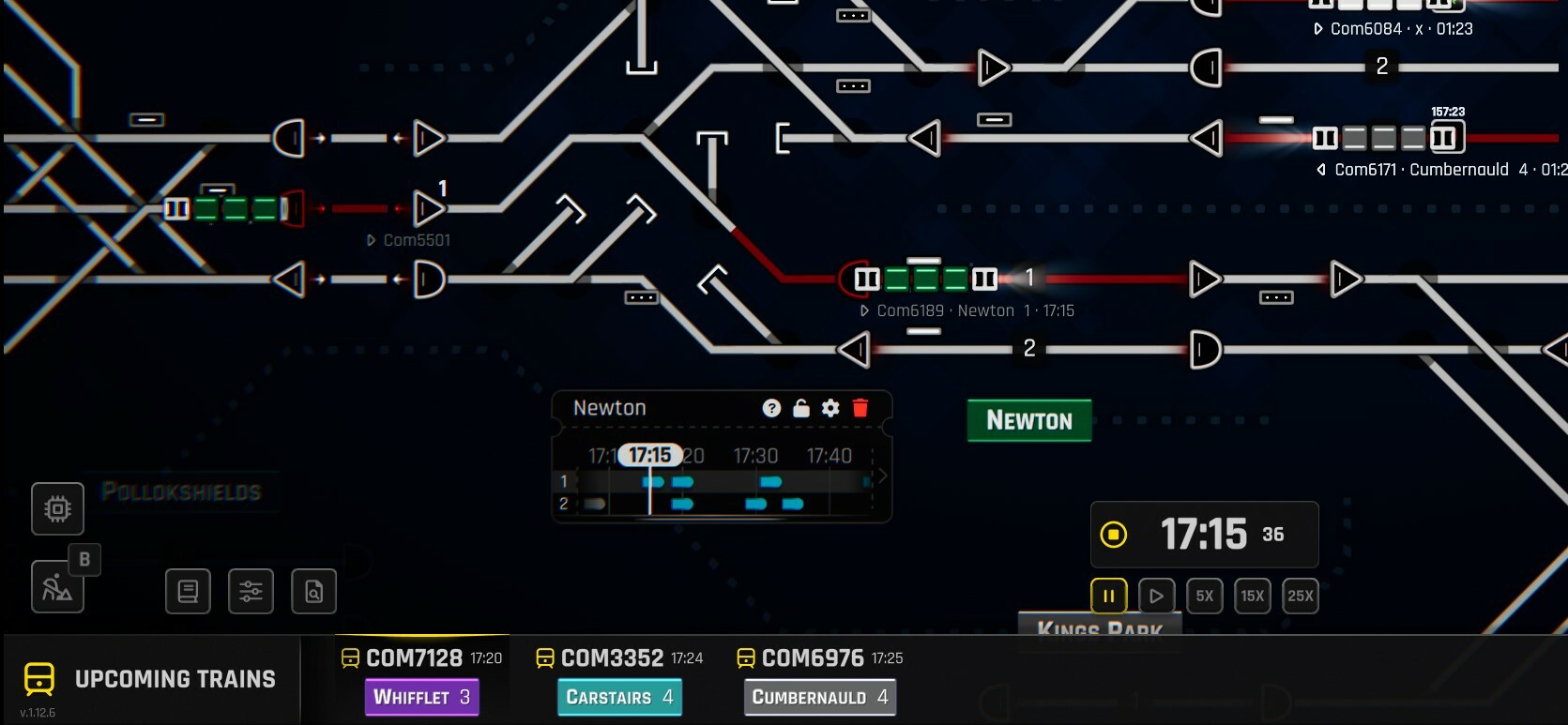 Expanded Gameplay: With the addition of multi-legged trains, the possibilities for your railway empire have expanded.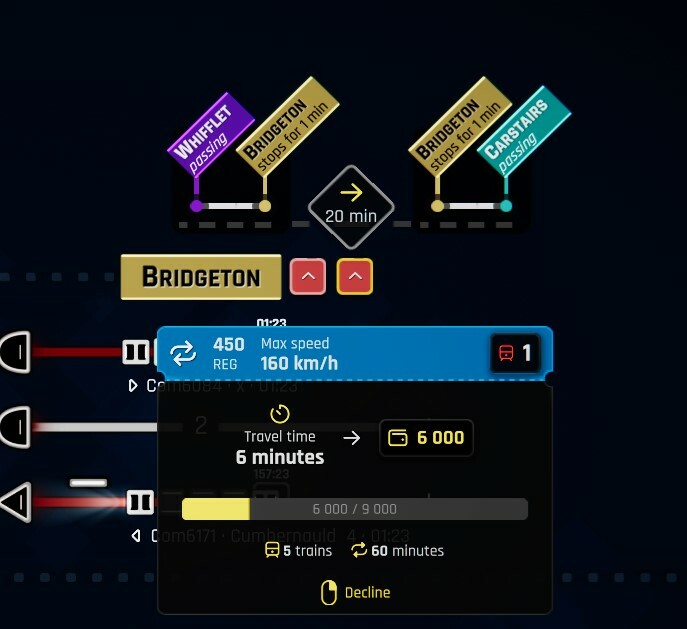 Contract Management: The active contract schedule editing in the Contract Focus View has been improved for better contract management.
Enhanced Train Controls: We've added 'Stop' and 'Run' commands to the train controls, giving you more control over your railway operations.

Improved Train Management: A new button allows you to set up a train to be dispatched from the coach yard in reverse when relevant.
Notable Updates:
Visual Upgrades: We've updated the visuals of the buttons for a more modern and intuitive look.

Regional Train Contracts: The bottom bar schedule for offered regional train contracts has been improved for better planning.

Localizations: We've updated the localizations for a more inclusive gaming experience.

Customizable Interface: The overview panel is now toggleable and disabled by default for a more customizable interface.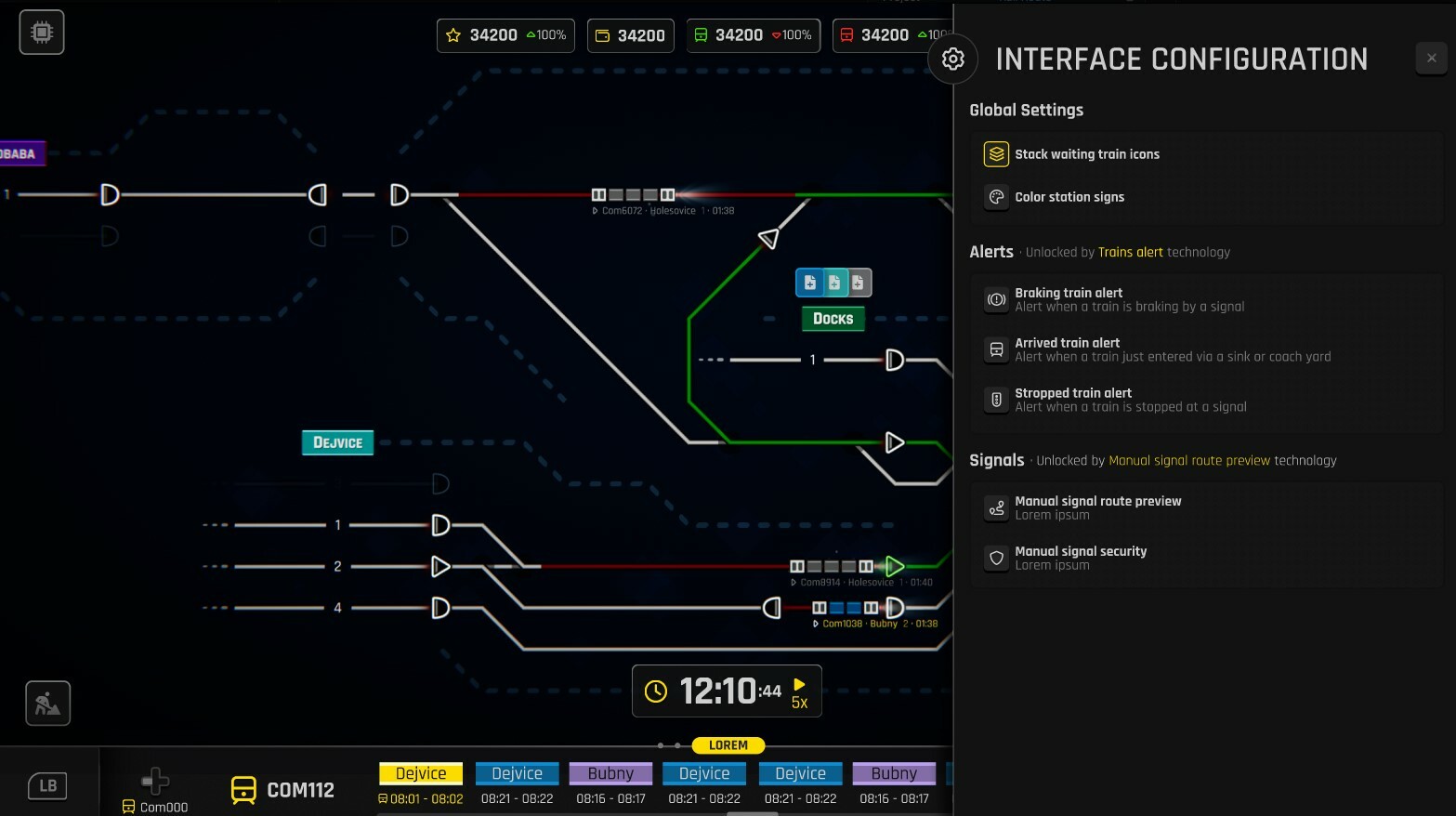 We're incredibly excited for you to experience these new features and improvements in Update 12. Your feedback has been instrumental in shaping this update, and we can't wait to hear what you think.
Please note that we're planning to address some additional changes throughout the coming week. We're committed to bringing even more fluent controls and will be making adjustments based on your feedback. The changes in this update are astronomically big, but don't worry, we'll be iterating over them.
In the coming weeks, we'll also be releasing some changes to the building UX, especially how the right mouse button is used. We've identified some UX flaws there and are working hard to improve them.
So, are you ready to explore the new horizons of Rail Route? Update 12 is waiting for you at the station. All aboard for a thrilling journey!
Full Changelog:
News
Accept more contracts hint shown when no upcomming trains are shown in general bottom bar
Added 'Stop' and 'Run' commands to the train controls
Added hold button and replaced train stop start and tutorial skip buttons with it
Added ingame UI elements like info panels, context panels, bottom bars and other new UI
Added support for multi legged trains in train bottom bar
Added support for urban trains in train stop visuals
Button to set up train to be dispatched from coach yard reversed (loco pushing the train) added to Train Bottom Bar, displayed only when relevant.
Display precise transfer time of trial train between stations for easier schedule modifications
Focus view for Offered Contract
Individual contract legs can be selected by clicking them in the offered contract bottom bar
Multi-leg contracts displayed in Active Contracts view
Multi-leg contracts generated for stations with Coach Yard
One-off contracts can be configured to arrive later when accepted but further modifications to their schedule are forbidden
Show keybind hint for configure acton on bottom bar
Time shifting for offered contract
Train alert for trains stopped by user
Train finished & reverse sounds
When Trial train is finished, info panel is shown to accept / decline contract
Updates
Active contract schedule edited in the Contract Focus View
Added current time above indicator line in station info panel timeline
Added new button style and improved existing buttons visuals
Added scroll area to interface configuration panel for lower resolution displays
All Upgrades for Overview panel removed and unlocked by default
Animated score icon instead of entire panel when Rush Hour wave completes
Assigned the same state colors from new UI buttons to old UI buttons
Changed all old UI to use new colors
Clicking upcomming train item now shows train bottom bar for that train
Construction mode switched off when main menu opened
Contract.OwningStation introduced, contracts generated for stations where free slot still available. Contract limit adjusted to 2 per station & More Contract… upgrades unlock 3/4/6 contracts per station
Default Configure Keybind – middle mouse with alternative 'V'
From, mandatory and to stations no longer clickable in active contracts panel
Hidden left and right buttons on train bottom bar for single leg trains as they are unused
Improved bottom bar schedule for offered regional train contracts
Info panels are added to the other side when the prefered spawn location is full
Localizations (nl: achievements, tutorials, ui; zh-Hans: tutorials, ui; de: ui; no: ui; ru: ui)
Localizations (nl: research, tutorials, ui; zh-Hans: research, tutorials, ui; no: ui)
Made overview panel toggleable and disabled by default
Moved configuration panel close button to top right of panel
Moved existing detail panels to configuration panels
Multi legged contracts can now show contract legs in active contracts panel
New sprites for joystick button press L and R
One-way contracts (to and from coach yard) generation turned off – were replaced by multi-leg contracts
Overview panel properly display highlighted and selected trains
Platforms selection for offered contract
Randomization of expected average speed removed for freight, recurrent IC, commuter & regional contracts. Max train speed used instead to simplify contract selection. Reward adjusted to compensate.
Reg trains accepted to, displayed in & auto-dispatched from Coach Yard
Replaced old automated contracts manager panel with new configuration panel
Research points on the top can be clicked to open the system upgrades menu
Reward for one-off single-leg contracts no more comprises red point; contracs offer twice as money instead
Reward for single-leg IC contracts no more comprises red point if expected speed is above 100 km/h
Reward for urban transit contracts no more comprises green point
Reward for urban transit contracts no more dependent on average speed, only on number of unique stations. Max speed reduced to compensate & freigh train max speed reduced as well to balance.
Station Colors are unlocked by default and are not an Upgrade anymore
Station configuration panel elements replaced with new UI variants
Story Of Jozic's chapters that are related to getting red experience point have been removed as the basic track upgrade is no longer requires red points to be unlocked.
Train bottom bar shows selected train in map editor
Train that is being modified is highlighted in station info panel timeline
Train timeline is showing times
Upcomming trains on bottom bar show station of arrival and are clickable
Urban trains rewards per station increased significantly
Fixes
Actions with keybinds would still fire while typing in some input fields
Adjust active contract button was shown on train bottom bar in timetable and rush hour mode
Auto scroll to current destination in timetable adjustments panel could cause interactions to be misaligned from destinations
Build button was not shown in system upgrade tutorials
Buttons with hover scale effect got stuck mid animation when clicked
Camera movement with keys stopped working after closing configuration panel with button
Construction cursor were scaling with zoom from wrong pivot
Error when trying to get previous or next instance of train in timetable map for train bottom bar
Game over modal was not navigatable with controller
Handling of possible NRE when unbinding virtual cursor
Keybind hints where shown as text for other input device then current if no binding existed for current input device
Missing text highlights in cycle report
Mouse pointer was not reenabled after modal was shown during story when using a gamepad
Navigation highlighter was destroyed when loading a map
Previous and next legs on train bottom bar where not available for trial train
Reverse and Adjust timetable buttons on train bottom bar did not listen to shown keybind
Scrollbar had incorrect colors setup
Selecting different train in editor station info panel timeline would not deselect previous train
Slider handle still animated when slider was non interactable
Some menu pages did not reenable navigation on correct elements when switching pages or opening menu
Station info panel timeline train highlight out of panel when train with 2 stops on the same station was selected
Station info panel timeline visit highlights could show outside of panel
Station info panel train labels overlapped research panel
Station info panels had disabled station color when switching contract legs in offered contract focus view
Time control bindings stopped working when closing system upgrades with toggle button
Time could overlap buttons above bottom bar on large UI scales
Timetable and Rush Hour trains did not work in train bottom bar
Train schedule did not fit properly in train bottom bar
Train stop in train bottom bar schedule had black time text when station has yellow sign
Trains already in selected state were not highlighted in station info panel when panel is created
Trains scheduled in the future could not be selected in the station info panel timeline
Upcomming train remained highlighted after upcomming train bottom bar was closed
Various UI Elements where visibile on the map when a Rush Hour wave completion screen was shown
Zoom in Camera MoveToBounds were wrongly calculated
Full steam ahead, folks! 🚂
Available for PC  – Win / Linux / Mac
You'll receive a Steam key for Rail Route directly from the developers of the game.
❤️ Thanks for your great support!
Share This Story, Choose Your Platform!